The Wedding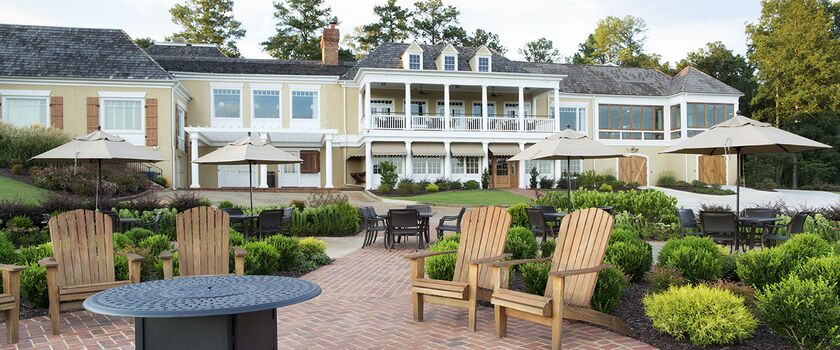 Friday, November 1, 2019
5:00 PM
Attire: Cocktail
Ceremony and Reception
Horseshoe Bend Country Club
2100 Steeplechase Lane, Roswell, GA
The ceremony and reception will be entirely outdoors (weather permitting). Please bring a little sweater incase it's chilly, and the shots of tequila aren't warming you up enough (we will have heaters).
Our Story
To Loves Eternal Glory...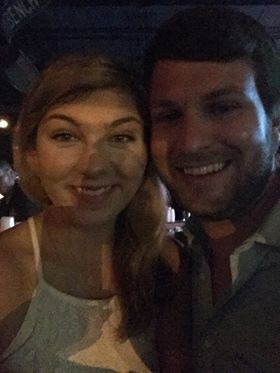 June 21st, 2015 started a chain of flirty facebook messages. The opening lines including falsified confusion over where we had 'undoubtedly' seen each other before and just couldn't put our fingers on where. After only two days of the back and forth, my sweaty palms trying to craft the perfect message, and blushing with every response that graced my screen, we met. Wearing yesterdays jeans, a salmon v-neck shirt, brown sandals and my hair in a messy bun, I couldn't wait any longer, I had to meet the man that stayed up and played sweet melodies on his acoustic guitar through the phone to help me fall asleep. The man who met my Les Mis memes and raised me one. So I asked him (ahem, told him) can we meet tonight for dinner? (Yes, I am SUPER shy, I know). He agreed.
He showed up, skinny jeans, a red plaid ralph lauren polo and rainbow sandals.
Now, lets have a quick side bar. If you asked any of my girlfriends previous to this evening what my biggest 'no-no' was in my dream suitor, I would say "he can wear whatever he wants, but he better not show up with jeans and sandals." Something about that combo makes me itch. And, if you had asked any of Tyler's friends the same question they would say "Tyler loves long beautiful hair."
Was it love at first sight? probably not. But half way through my strawberry and nutella crepe, I looked into his dreamy blue eyes at our dimly lit table, and all I could think was...
'WHY IN THE WORLD DID YOU WEAR SANDALS WITH YOUR JEANS?'
Come to find out he was thinking the same thing about my long locks wound up into a messy bun on top of my head. We spoke about life, dreams, ambitions, plans, I could see from that one date that he was someone that I just connected with, instantly. From cafe intermezzo, we drove down to Atlanta's 'little' Italy and had a drink on the porch while we continued to talk and giggle about our families and experiences, the sounds of us belting Panic At The Disco from the ride over still ringing in my ears.
We fell in love slowly, and then all at once. I can't say I have a specific point in time where I knew he was the one. It was in between our 1am CookOut runs, our trips to the lake, our time with family, our adventures in the city, the nights we don't remember in Buckhead, and the nights we will never forget in his closet-of-an-apartment in Home Park. It was the late nights when he was ready to give up pursuing his masters, and the evenings I would come home from my toxic work environment ready to throw in the towel that I fell head over heels in love with him. The way his heart loves and cares. The way he nurtures, helps me see the light in the dark and guides me to be slow and intentional with my decisions. The way he puts up with my wet kisses and the need to touch everything when we go into any store.
Our love story isn't the norm, and I think thats what makes it so special. June 5th will forever be the easiest 'Yes' I have ever been given the opportunity to say.
Enjoy the first picture we ever took together at one of our favorite spots in Atlanta, Park Bench.
Other Events
Wedding Rehearsal
Thursday, October 31, 2019
5:00 PM
Rehearsal Dinner
Thursday, October 31, 2019
7:00 PM
Wedding Party
Candice Holden - Maid of Honor
My longest and dearest friend. We met at Rugby Middle School and instantly became friends due to our love for theater. And from there, we have nothing but the fondest of memories, from Florida to Bowling alley dates, talent shows and everything in between. Thank you for always being a constant in my life and allowing me to share in the joys of our past and the most important parts of our futures.
Devyn Stringer - Maid of Honor
My future sister-in-law, I can TRULY say that If it weren't for this woman, I wouldn't be marrying the love of my life on November 1st. Thank you for being the talented starfish that you are and sharing in my love of theater and your sweet brother.
Shelby Gentile - Bridesmaid
My beautiful sister-in-law, although you have only been family for a short while, I'm so happy to have you as a part of my life. Thank you for making my brother so happy.
Gabriela Rodriguez - Bridesmaid
My future sister-in-law. You are the last missing link that our family has been needing. Thank you for completing the puzzle, filling my brothers heart with unbridled joy and lighting up every person you come into contact with.
Brandon Westergaard - Best Man
Georgia Tech is tough enough let alone attending graduate school there. Brandon was the friend that I could count on to always put me in a good mood even when I was ready to burn down Couch (that's our lab's build name). We quickly became great friends exploring local music around Atlanta, drinking too many sour beers from Orpheus, and struggling through the gross amount of class and research work demanded from us. I don't know how I could have made it through those two years without such a great friend!
Jonah Chizmadia - Groomsman
From sleeping on my dorm room floor to living together for three years to both of us now married, we have come such a long way since undergrad. Jonah has always been there when I need someone to talk shop or life with along with never backing down from a crazy mountain biking, snowboarding, or other outdoor adventure.
Jonny Wang - Groomsman
As classes became more intense at Tech we needed as much brain power as possible to complete our assignments, so what started off as crashing your lab and asking for help on homework quickly became a long friendship of late night DSP assignments, MIDI fighter compositions, hackathons, and eventually similar career paths working for direct competitors. I can always count on Jonny to make me laugh, show me up at dancing (which isn't hard), and enjoy a beer with.
Lawrence Gentile - Groomsman
My future brother-in-law! If you ever wander off to see the shark tank at Atlantas again, I will leave you in the Bahamas... Excited to be a part of the family!
Christopher Gentile - Groomsman
My other future brother-in-law! We all know that I'm just marrying Lauren to get to your amazing food. You better be glad we don't live closer because you'd probably be tired of feeding my fat ass. I'll never forget our adventure in the Bahamas and your mad fence jumping skills!